11-18-2015, 11:20 AM (This post was last modified: 11-23-2015, 08:14 AM by MephistoZX.)
This would have probably been more suited for Halloween, but after watching an X68000 Longplay of Akumajou Dracula, I started to get interested in all the versions available. So in this thread, I'm going to list some lesser known versions of the earlier "Castlevanias" and a couple of interesting clones.
Akumajou Dracula- X68000, 1996
Watch it in action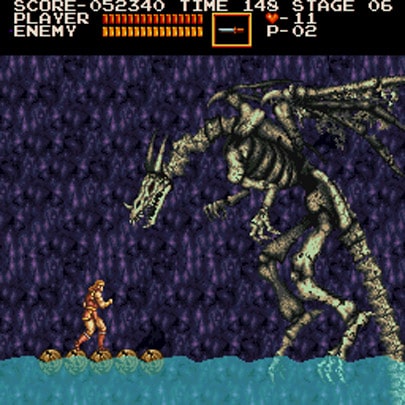 The name means Demon Castle Dracula. Originally released in 1993, the graphics and gameplay are comparable to Super Castlevania (though in my opinion Super Castlevania looks better). The thing that stands out the most to me is the music; it's very crisp and very well suited to the gameplay. The game was eventually ported to the Playstation as Castlevania Chronicles with the game kept in tact.
I thought this game was really good, one of the better takes on early Castlevania.

Vampire Killer- MSX, 1986
Watch it in action
The most interesting thing right away on this game is its progression. It's set up to get similar to the NES Castlevania, however it is somewhat "maze" based. You need to grab keys and other items to unlock doors and progress. Very interesting concept, and pretty decent effort.
Good version of the NES game with some quirks.
Haunted Castle- Arcade, 1988
Watch it in action
This is an odd one. It's an original arcade game that was released in 1988 that doesn't quite play as good as some of its predecessors. The graphics, however, are quite nice and some enemy designs look pretty good (the golem boss is my favorite). It's level based, and though you start out with a whip, you can also get a sword as a main weapon.
Mediocre in most aspects, but a decent game nonetheless.
Akumajo Special: Boku Dracula-kun,Famicom, 1990
Watch it in action
A parody of the Castlevania series in which you play a Kid Dracula. The name translates to "Demon Castle Special: I'm Kid Dracula." Not released in the west, but it has a fan translation. Not a real Castlevania game in terms of gameplay or design, but is considered in the series. It's somewhat difficult but it can be a fun game.
A decent offshoot platformer.
I'm sure most people know of Rondo of Blood, or Akumajou Dracula X: Chi no Rondo and Castlevania Bloodlines, so I'll skip those. I'll finish with a really interesting Castlevania clone.
Rusty, PC98, 1993
Watch it in action
This game is pretty awesome. It's a complete rip off of Castlevania that stars a stantily clad lady monster killer who also wields a whip to fight ghoulish enemies. The graphics/art is very good and the soundtrack is amazing. It's somewhat open ended like the MSX version of Castlevania (Vampire Killer). It was only released on the PC98 in Japan in 1993, and hasn't really seen the light of day since. However, if you can find an way to emulate it, I highly recommend this game.
Here's some more info if you are interested in this game.
Master of Darkness/In the Wake of the Vampire, Sega Master System/Sega Game Gear, 1992
Watch it in action
This one is a mixed bag. It very obviously a Castlevania rip off, but it doesn't really seem to have many monsters in it. In fact you most fight ghostly humanoid types, and skeletons, with the last boss being Dracula. The weapons range from whip types to swords and axes. The ambiance is OK, but certainly doesn't have Castlevania's vibe. It is an interesting game though, and fairly difficult. It was released for both the Sega Master System and the Game Gear, and obviously the Master System version looks and plays a bit better.
It's a not bad clone, worth giving a check out at least just to see what it is.